Guide to Buying New Tyres
When you need to buy new tyres there can be many different factors to bear in mind and this can be overwhelming. Take a look at our helpful guide for a less stressful way to choose your new tyres!
Please be aware this guide is for replacing all four tyres, if you are only replacing one you should match your new tyre to the other tyres already fitted to your vehicle.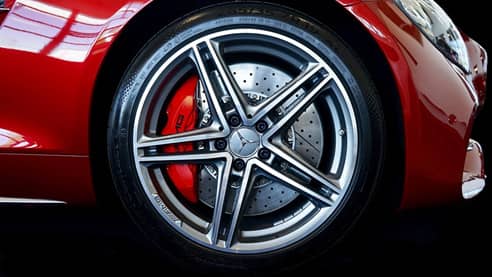 One Size Does Not Fit All
The first and most important thing to think about when buying new tyres is size. Tyres come in different sizes to suit different vehicles and it is vital that you know the size of tyre your vehicle requires before making your choice.
You will be able to find your tyre size in your vehicle handbook or on the sidewall of your tyres. This will be displayed as a string of numbers and letters which looks something like 205 / 55 R18 92 V.
You will also need to ensure that your new tyres have the correct speed and load index for your vehicle. This information is located at the end of the tyre size string (eg 92 V) which is the maximum speed the tyre can travel when carrying maximum load. You should choose a tyre which matches the speed and load index recommended by your vehicle manufacturer.
Premium or Budget
The next consideration when choosing new tyres will be price. When it comes to tyres you do get what you pay for and the premium price associated with leading manufacturer tyres reflects the many hours of research, design and testing which have gone in to them. That's not to say that budget tyres are not a reliable option as they do meet legal tyre regulations and will still provide safety and performance.
Budget tyres may seem like a more cost effective option, however, premium manufacturer tyres tend to wear slower and better resist damage thanks to the high quality rubber that is used to construct them. Take a look at our guide for more information on choosing premium or budget tyres.
Tyre Types
You should choose tyres that best suit your driving needs and most tyre manufacturers provide seasonal, high performance and eco-friendly options to help you select tyres that fit your lifestyle.
For example, motorists who live in areas that regularly see vast changes in climate may benefit from selecting season specific tyres whereas those who experience similar temperatures and weather all year long may choose to purchase all season tyres.
If changing a tyre or using a tyre repair kit seems like a worrying concept, you could opt to fit run-flat tyres to your vehicle as these will help you to keep moving following tyre damage. See our guides on different types of tyres for more information.
Further Guidance
If you are still unsure which tyres are for you, the EU Tyre Label can provide further insight. With comparative grading on performance and safety features, this can help you to decide which tyres are best for you.
Alternatively, visit your local Setyres centre where one of our trained tyre technicians will be able to provide further guidance.
Posted on: 20/02/2018