Tyre Checks - Advice from Henfield
We all know how important it is to check our tyre pressure regularly and also check that our tyre tread is adequate and legal, but a lot of us tend to overlook the rest of the tyre! The team at Setyres Henfield have offered some super helpful advice to help us all identify inconsistencies and important damage to our tyres, that we might have otherwise overlooked.
What should I look out for? 
Impact Damage: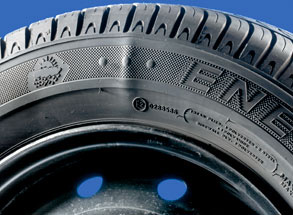 If there is impact to the sidewall of your tyre, you might notice that a bulge or obvious lump appears. The sidewall of tyres is most commonly damaged by pot holes but can occur from hitting kerbs too. When a lump or bulge appears, this means the tyre has been internally damaged and the air pressure creates the bulge. As the integral structure of the tyre is damaged it will need to be replaced regardless of the tread and/or wear of the tyre.
Cuts and Cracking: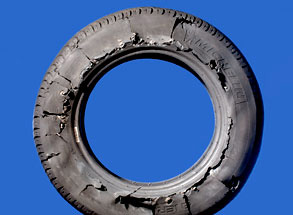 Tyres commonly gain cracks and cuts due to under inflation. When air pressure is not high enough, the pressure it puts on the sidewall can cause such damage. Under inflated tyres generate more heat which creates cracks in the rubber. The lack of air pressure means the tyre is overstressed and cuts can appear as the tyre is not designed to function correctly when underinflated. Persistent under inflation may be a sign of an underlying tyre problem. If you notice such symptoms you may have a slow puncture..
Emergency Braking: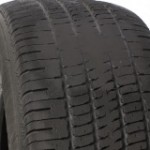 Although you might not realise, the impact of an emergency brake on your tyres can be drastic. Despite checking your tyres tread regularly, there is always the chance you might have missed a patch which could have been subject to serious wear; as the image opposite shows. If you have had to perform an emergency stop recently, have your tyres checked all round by a professional, just to be sure. Such a loss of traction and grip could cause you to lose control of your car, especially in wet conditions.
If you notice any of the above problems you should have your tyres checked by a professional as soon as possible.
If you believe you may have tyre damage, feel free to pop down at see the staff at Setyres Henfield or alternatively visit your nearest Setyres centre. Our fully trained professional staff can perform a free tyre check for you and if need be explain more about tyre safety. If you do need new tyres, we stock a wide range of brands from budget, through to premium brands and are sure to find the right tyre for you at the right price. 
Posted on: 14/01/2015