Tyre of the Month April 2015 Continental Eco Contact 5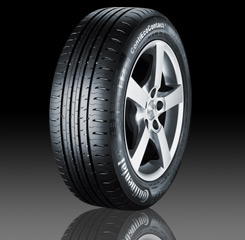 We've chosen the excellent Continental EcoContact 5 for our tyre of the month this April. With the sun now regularly showing its face and the temperatures climbing, now's the time to ditch the winter tyres and fit a set of standard or summer tyres to your car.
The ContiEcoContact 5 combines short braking distances with low rolling resistance, which in the past has always been considered extremely problematic by tyre manufacturers.
Because reducing rolling resistance features in a tyre, directly relates to the safety-relevant characteristics, the engineers at Continental have had to focus to create a tyre that meets the high requirements of compact cars and large saloons.
With the help of other leading tyre manufacturers, this new tyre technology has been developed in order to launch a tyre aimed specifically at motorists who drive longer distances, but who are also very mindful of both fuel consumption and the environment.
The challenge to reduce rolling resistance whilst also ensuring a high level of safety during braking, required a completely new approach to all four components of the tyre: design, contour, compound and tread pattern.
High braking safety and short braking distances on wet roads
In order to achieve the safety aspects expected of this tyre, the combination of special additives and optimised tread lug edges, mean improved grip in wet conditions. As a result short, safe braking distances on wet roads are evident. Polymer chains firmly linked to the silica compound of the tyre mean lower rolling resistance. Extra-thin sipes reduce tread deformation, thereby also minimising energy loss.
Best handling on wet and dry roads
The ContiEcoContact 5 includes a higher apex as well as the use of additional bead reinforcements. This ensures a safer and more direct transmission of the lateral forces that occur when steering. The weight-reduced sidewall is much more supple in its design than those of predecessors, which also contributes to improved rolling resistance.
Less lost energy with good handling characteristics
The more supple sidewalls contribute to less deformation and movement above the tyre rim. A flat contour with optimal distribution of thread grooves means that tread movement is reduced and a minimized lateral and longitudinal slip is also evident.
Search online to find ContiEcoContact 5 tyres for your car today. Alternatively find your nearest branch and arrange fitting at a time to suit you. View other Continental tyres available from Setyres here...
Posted on: 13/04/2015