Tyre of the Month April 2017: Hankook Ventus V12 Evo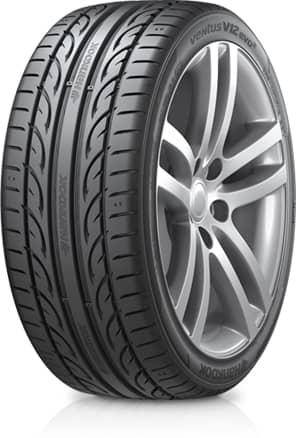 For April we have chosen superior high performance tyre Hankook Ventus V12 Evo as our tyre of the month. The Hankook Ventus V12 Evo provides enhanced levels of traction on wet surfaces and exceptional wet and dry handling, making it an ideal tyre choice for unpredictable spring weather.
Superior Wet Weather Performance

Designed with a high grip silica compound, the Hankook Ventus V12 Evo provides enhanced traction in wet conditions as its tread optimally bites to the surface of the road for a safe drive. A specialist aqua jet design in the tyre tread works to channel water away from the centre of the tyre, enabling the tyre to resist aquaplaning. In addition, the Hankook Ventus V12 Evo was awarded an 'A' for its wet grip by the EU Tyre Label.
Enhanced Levels of Stability

The Hankook Ventus V12 Evo is built with a wide steel belt layer within the tyre and the tyre carcass is constructed using high density polyester. This combination helps to enhance sidewall stiffness, enabling the tyre to retain its shape when driving. This means that it can provide superior levels of stability for improved handling, grip and steering response.
Comfortable Driving Performance

Thanks to Hankook's specialist 'stealth' technology, the Ventus V12 Evo provides resistance against impact and exterior noise. This is due to the specially slanted shape of its edges which work to support tyre blocks for superior handling. In addition, this tyre features an increased amount of pitch numbers for reduced noise, resulting in a quieter and more comfortable drive.
Browse online to find Hankook Ventus V12 Evo tyres for your vehicle or contact your local branch to arrange a fitting at a time to suit you.
Alternatively, take a look at all the Hankook tyres stocked at Setyres.
Posted on: 27/04/2017