Tyre of the Month January 2017: Firestone Winterhawk 3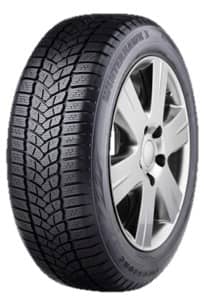 This January, we have named superior winter tyre, the Firestone Winterhawk 3, as our tyre of the month. Adept at handling difficult winter weather conditions such as snow, ice and rain, the Firestone Winterhawk 3 is an innovative tyre designed to resist aquaplaning and provide enhanced gripping capabilities.
Excellent Traction
Due to its innovative tread design featuring a large number of lamellen sipes, the Firestone Winterhawk 3 provides enhanced gripping capabilities which enable the tyre to bite the surface of the road and deliver a safer ride in snow, ice and rain. Its special high silica compound with Firestone's NanoPro-Tech technology works to keep the tyre supple at low temperatures and this enables it to retain flexibility in winter. These technologies combine to deliver a better all-round winter performance and excellent traction on snow covered surfaces.
Superior Wet Weather Performance
The Firestone Winterhawk 3 provides enhanced resistance against aquaplaning and excellent performance in wet weather. Constructed with a staggered longitudinal groove design, this tyre is optimised to rapidly evacuate water away from the tyre tread to improve aquaplaning and slush resistance by up to 10% compared to predecessor tyre, Firestone Winterhawk 2 Evo*. This tyre also provides enhanced levels of grip in wet conditions and it was awarded a 'B' grade in some sizes for its 'Wet Grip' by the EU Tyre Label.
Long Tyre Life
Compared to the Firestone Winterhawk 2 Evo, the Firestone Winterhawk 3 offers vastly improved tread wear resistance for long tyre life. Thanks to innovative dynamic footprint analysis, Firestone has applied its excellent stiffness optimisation technology to extend tyre life and tests have demonstrated a 30% wear improvement compared to the Firestone Winterhawk 2 Evo*. Furthermore, tread wear indicators placed at 4mm indicate when motorists need to think about replacing their tyres.
Search online to find Firestone Winterhawk 3 tyres for your vehicle or contact your local Setyres branch to arrange a tyre fitting at a time to suit you.
Alternatively, browse the full range of Firestone tyres stocked at Setyres online.
* http://www.bridgestone.eu/corporate/press-releases/2013/05/new-firestone-winterhawk-3/
Posted on: 12/01/2017