Tyre of the Month July 2016: Michelin Pilot Sport 4
Launched earlier this year, the Michelin Pilot Sport 4 is a high performance summer tyre that adapts continuously to the surface of the road to offer excellent grip and short braking distances. As part of Michelin's high performance Pilot Sport range, this tyre benefits from co-operation with emblematic manufacturers including BMW, Audi and Porsche.
Excellent Gripping Capabilities
Constructed with an innovative tread pattern design, inspired by Michelin's experience in motorsports and Formula E racing, the Pilot Sport 4 offers enhanced levels of grip. The tread adapts continuously to the road, optimising the tyre's contact with the surface of the road and ultimately enhancing grip. Due to its superior gripping capabilities, the Michelin Pilot Sport 4 offers shorter braking distances than many of its competitors, including the Goodyear Eagle F1 Asymmetric 2*, as pictured.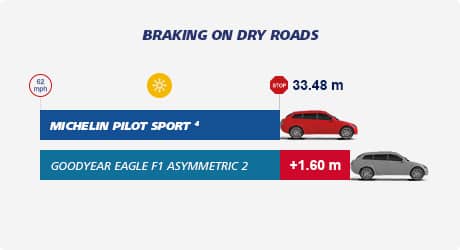 Superior Performance in Wet Conditions
The Michelin Pilot Sport 4 provides a high level of safety on wet roads thanks to its innovative compound which resists water. The mixture of functional elastomers and hydrophobic silica enables the tyre to retain contact with the road in wet conditions, providing impressively short wet braking distances, as pictured*. In addition, wide longitudinal grooves situated across the tyre work to rapidly evacuate water from the tyre tread, enhancing aquaplaning resistance.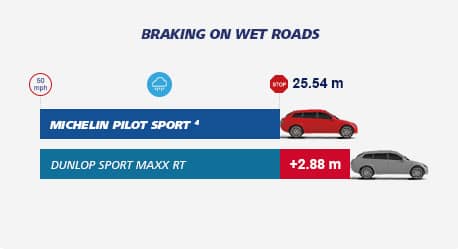 Impressive Economy
This tyre offers high levels of performance and safety, however, tyre life and fuel efficiency are not compromised. It was awarded a 'C' for fuel economy by the EU Tyre Label, which is incredibly low for a performance tyre, in comparison, the ContiSportContact 5 is currently rated 'E'*. Furthermore, the Michelin Pilot Sport 4 provides a long tyre life thanks to Michelin's technological innovations gained from motorsports experience.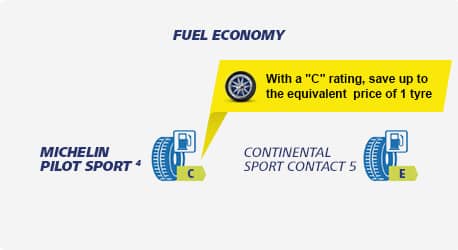 Browse for tyres online and arrange a fitting at your local Setyres branch. Alternatively, take a look at all the Michelin tyres we stock.
*http://www.michelin.co.uk/tyres/michelin-pilot-sport-4
Posted on: 15/07/2016