Tyre of the Month July: Dunlop SP SportMaxx RT 2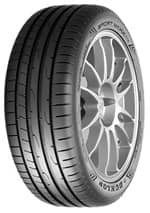 We have named the superior Dunlop SP SportMaxx RT 2 as our tyre of the month this July. Designed to achieve superb grip and enhanced steering precision, this tyre is an ideal choice for driving enthusiasts.
Named 'exemplary' by Auto Bild, Germany's leading automotive publication, in 2017, the Dunlop SP SportMaxx RT 2 is renowned for its high levels of performance and safety across the industry.
Enhanced Steering Precision
The Dunlop SP SportMaxx RT 2 features a flat tread profile with a large contact patch enabling higher levels of contact between rubber and road, enabling the tyre to retain optimal stability. This results in precise handling and steering for enhanced driver control. This tyre is also optimised for long tyre life thanks to a dual silica compound which promotes low wear and tear.
Super Gripping Capabilities
Constructed with a specialist compound, this tyre is optimised to achieve high levels of grip for enhanced safety in all summer conditions. The Dunlop SP SportMaxx RT 2 features a specially designed asymmetric tread pattern which works to expel water from the tyre tread for excellent aquaplaning resistance, resulting in a safe performance on wet surfaces.
Short Braking Distances
The Dunlop SP SportMaxx RT 2 is constructed with a specially designed block geometry which optimally increases block rigidity and maintains stiffness when braking force is applied. This increased rigidity enables the tyre to maintain contact with the road when braking at speed for shorter braking distances.
Search online to find Dunlop SP SportMaxx RT 2 tyres for your vehicle and arrange a fitting at your local Setyres branch.
Alternatively, you can browse all Dunlop tyres.
Posted on: 12/07/2018