Tyre of the Month June 2017: Michelin Pilot Super Sport
This June we have chosen the superior Michelin Pilot Super Sport as our tyre of the month. Providing exceptional safety in wet conditions and superior dry handling capabilities, this tyre is ideal for unpredictable summer weather conditions.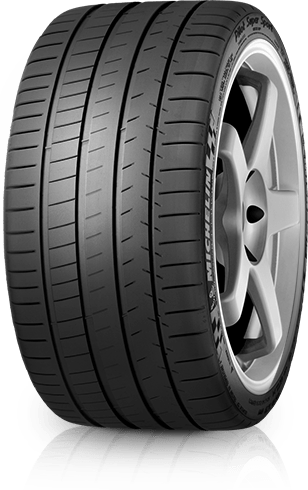 Excellent Gripping Capabilities
Constructed with a specialist variable contact patch, the Michelin Pilot Super Sport provides optimal grip to the surface of the road. This unique contact patch changes shape whilst the tyre is in motion to ensure that the amount of rubber in contact with the road stays the same. This means that the Michelin Pilot Super Sport offers enhanced grip for excellent safety and performance even when accelerating or cornering.
Exceptional All Weather Performance
The Michelin Pilot Super Sport delivers excellent performance in wet conditions thanks to the use of unique Michelin dual-compound technology. This tyre features a specialist distribution of two different compounds between the inner and outer sides of the tread. On the outer side, the tread is constructed using carbon black-reinforced elastomer derived directly from Michelin's experience from the Le Mans 24 Hour Race. The inner side sports a tread compound constructed using the latest generation of elastomers with exceptional wet grip, enabling the tyre to mould itself to the surface of the road to break the film of water and provide resistance against aquaplaning.
Enhanced Stability
Designed with a specialist Twaron® belt, the Michelin Pilot Super Sport is optimised to provide high levels of stability even at high speed, for a safe and comfortable drive. The Twaron® belt works to grip the centre of the tread, thanks to its variable tension, and this helps to better control centrifugal force. This means that forces working on the tyre are distributed more evenly, allowing the tyre to evenly grip the surface of the road for a more stable drive.
Search online to find Michelin Pilot Super Sport tyres for your car or find your nearest branch and arrange a fitting at a time to suit you. Alternatively, you can browse all Michelin tyres available from Setyres.
Posted on: 15/06/2017