Tyre of the Month June: Goodyear F1 Eagle Asymmetric 3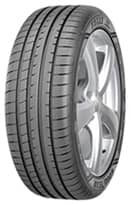 Thanks to its excellent handling response and high levels of precision, we have chosen the high performance Goodyear F1 Eagle Asymmetric 3 as our tyre of the month this June. Labelled 'exemplary' by Auto Bild, Germany's leading automotive publication, and fitted by leading car manufacturers, this tyre has an excellent reputation within the industry.
Short Braking Distances
Designed with Goodyear's specialist Active Braking Technology, the contact surface of the tyre increases when braking, enabling stronger grip for decreased braking distances on wet and dry roads. In addition, the Goodyear F1 Eagle Asymmetric achieves enhanced levels of safety in wet conditions thanks to its unique V-TRED technology which works to rapidly evacuate water for rapid resistance against aquaplaning.
Excellent Grip
The Goodyear F1 Eagle Asymmetric 3 provides superb gripping capabilities thanks to a unique Grip Booster Compound. This compound is made with an adhesive resin which helps to increase stickiness with the surface of the road, resulting in higher levels of contact between rubber and road.
Steering Precision
Thanks to New Reinforced Construction Technology, the Goodyear F1 Eagle Asymmetric 3 has a strong yet lightweight design and this works to improve handling and steering precision for a more controlled driving experience. This lightweight tyre construction also works to reduce rolling resistance for a more fuel efficient performance.
Search online to find Goodyear F1 Eagle Asymmetric 3 tyres for your vehicle and arrange a fitting at your local Setyres branch.
Alternatively, you can browse all the Goodyear tyres we stock.
Posted on: 26/06/2018