Tyre of the Month March: Hankook Ventus Prime 3 (K125)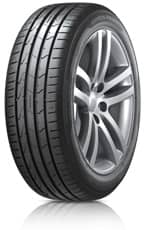 We have named the superior Hankook Ventus Prime 3 (K125) as our tyre of the month this March. Designed to provide enhanced aquaplaning resistance and boasting excellent gripping characteristics, this tyre delivers excellent performance for all passenger cars.
Labelled 'very recommendable' by Auto Bild, one of Germany's leading automotive publications, the Hankook Ventus Prime 3 (K125) is a superior summer tyre choice.
Excellent Aquaplaning Resistance

Ideal for unpredictable spring weather, the Hankook Prime 3 (K125) delivers high levels of safety in wet conditions. Constructed with four water clearing channels, this tyre works to rapidly evacuate water from the tyre tread for enhanced resistance against aquaplaning, resulting in short stopping distances in wet conditions.
Superior Braking Capabilities

Designed with an innovative groove chamfer, this tyre works to spread the contact patch when braking for enhanced contact with the surface of the road, enabling excellent gripping performance. In addition, the Hankook Ventus Prime 3 (K125) is constructed with a high grip silica compound which delivers superior traction on both wet and dry surfaces.
Long Tyre Life

The Hankook Ventus Prime 3 (K125) is constructed with three strong wide tread ribs which work to enhance steering precision and deliver high levels of mileage for long tyre life. Furthermore, specialist vehicle alignment indicators have been positioned on the tyre to provide visual clues on tyre wear and wheel alignment changes for high levels of safety on the road.
Search online to find Hankook Ventus Prime 3 (K125) tyres for your vehicle and arrange a fitting at your local Setyres branch.
Alternatively, browse all the Hankook tyres we stock.
Posted on: 09/03/2018