Tyre of the month May 2015 Goodyear Efficient Grip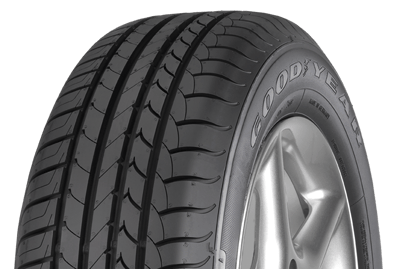 We've chosen the Efficient Grip from Goodyear as our tyre of the month this May.
This summer tyre is marketed by Goodyear as a fuel-saving tyre that keeps performing for longer. Winner of the Auto Express Best Buy 2012 award, the publication describes it as "A good all-rounder that proved a star performer in the wet." - Auto Express Magazine, 2012.

Fuel-saving and environmentally friendly
The EfficientGrip gives drivers the ability to save on fuel and as a result leave a smaller carbon footprint. The tyre features FuelSaving Technology which combines a lightweight structure with an advanced tread compound. This tyre needs less energy to make it roll which results in lower fuel costs and lower CO2 emissions on every journey.

Long lasting
The use of silica in the tread compound of the EfficientGrip, means the tyre keeps working for longer, saving drivers money. The tyre gives more mileage between tyre changes and as a result tyre longevity is clearly evident.

Better braking on wet roads
With a unique tread surface pattern and a blade arrangement, aquaplaning is significantly reduced as water is shed rapidly and effectively from the contact patch. The EfficientGrip offers better wet performance and shorter braking distances than other tyres in its class.*
Search online to find Goodyear Efficient Grip tyres for your car today. Alternatively find your nearest branch and arrange fitting at a time to suit you. View other Goodyear Tyres available from Setyres here...
*Compared to the average performance of 4 leading competitors. Tested by TÜV SÜD Automotive in March 2009; Tyre Size: 205/55R16; Test Car: VW Golf; Report #76236753
Posted on: 06/05/2015