Tyre of the Month May: Yokohama Advan Neova AD08R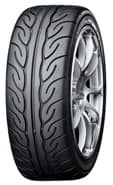 We have chosen the excellent high performance Yokohama Advan Neova AD08R as our tyre of the month this May. Designed to suit sporty cars, this tyre delivers precise control, ideal for racers and dynamic drivers. The Yokohama Advan Neova AD08R provides short braking distances in dry and wet conditions and was awarded a 'B' for 'Wet Grip' in some sizes by the EU Tyre Label.
Excellent Gripping Capabilities
Constructed with a specialist tyre compound which uses a higher amount of carbon, the Yokohama Advan Neova AD08R grips tightly to dry roads for superior grip, resulting in a precise handling performance. This tyre delivers excellent grip in wet conditions thanks to the addition of silica. In addition, a macromolecular polymer blend in the compound helps the tyre to retain stiffness, even at speed, for enhanced durability.
Precise Handling
Thanks to specially placed steel inserts in the sidewall, this tyre works to resist deflection for enhanced driving stability. The Yokohama Advan Neova AD08R also features continuous shoulder blocks that are uniquely designed to increase tread rigidity. These features work to enhance handling performance for superb levels of control and a more precise driving experience.
Superior Wet Weather Performance
The Yokohama Advan Neova AD08R is constructed with a specialist tread pattern which features round-shaped grooves in continuous grooves. This design enables the tyre to rapidly drain water away, resulting in high resistance against aquaplaning for enhanced safety when it rains.
Search online to find Yokohama Advan Neova AD08R tyres for your vehicle and arrange a fitting at your local Setyres branch.
Alternatively you can browse all the Yokohama tyres we stock.
Posted on: 12/05/2018