Tyre of the Month October 2016: Uniroyal RainSport 3
October can be a wet month, so we have chosen the superior RainSport 3 from Uniroyal, inventors of the rain tyre, as our tyre of the month. Winner of the prestigious product design award from reddot in 2014, the Uniroyal RainSport 3 is an innovative tyre which provides a superior performance in all wet conditions.
Aquaplaning Resistance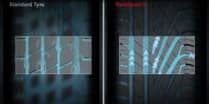 The Uniroyal RainSport 3 has been designed with a unique tyre tread pattern, modelled on the skin of a shark. This tread is made up of special longitudinal grooves which work to channel water away from the tyre with limited turbulence. This results in high levels of resistance to aquaplaning, as the tyre is able to maintain contact with the surface of the road.
Short Braking Distances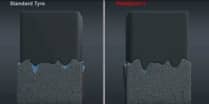 Awarded an 'A' in some sizes in the wet braking category by the EU Tyre Label, the Uniroyal RainSport 3 offers impressive stopping distances in wet conditions. This is thanks to a high amount of grip edges, which work to retain contact with the road and its specialist rain compound, which has been optimised to transfer braking forces working on the tyre.
High Gripping Capabilities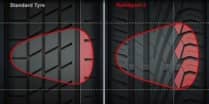 The Uniroyal RainSport 3 offers high levels of grip on both wet and dry surfaces, even whilst cornering. Constructed with Uniroyal's innovative Fast Curve Configuration (FCC), this tyre is structured with stiff shoulder blocks which resist and transfer forces to retain stability. In addition, its optimally shaped footprint adapts to the surface of the road and this ensures greater contact to enable superior grip.
Search online to find Uniroyal RainSport 3 tyres for your vehicle or find your local Setyres branch and arrange a fitting at a convenient time. You can also browse all the Uniroyal tyres we stock here.
Posted on: 19/10/2016