Tyre of the Month October 2017: Goodyear UltraGrip Performance 2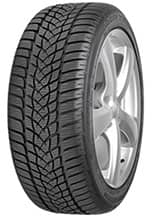 This October, we have named the Goodyear UltraGrip Performance 2 as our tyre of the month. Delivering excellent handling and high levels of safety in cold conditions, this tyre is a superior choice as temperatures begin to drop.
Enhanced Aquaplaning Resistance
Designed with an optimised tread pattern featuring hydrodynamic grooves, the Goodyear UltraGrip Performance 2 works to rapidly evacuate water away from the tyre tread resulting in high resistance against aquaplaning and enhanced safety in wet conditions. This innovative design also enables the tyre to retain contact with the road in thawing and freezing conditions.
Short Braking Distances
The Goodyear UltraGrip Performance 2 is constructed using Goodyear's unique Advanced SipeGrip Technology which places two different types of sipe on the tyre tread. This enables the tyre to provide exceptional grip on snow, ice and water covered surfaces. In addition, SnowProtect Technology provides short braking distances in winter conditions.
Excellent Handling Characteristics
Thanks to its optimised tread and footprint the Goodyear UltraGrip Performance 2 provides precise handling and stability and it delivers excellent all-round winter performance due to circumferential saw-shaped grooves which enable easier acceleration and hill-climbing. Furthermore, the Goodyear UltraGrip Performance 2 enables a quiet and comfortable drive thanks to its specialist block sequence arrangement.
Search online to find Goodyear UltraGrip Performance 2 tyres for your vehicle or find your local Setyres branch and arrange a fitting at a convenient time. You can also browse all the Goodyear tyres Setyres stock.
Posted on: 21/10/2017