Tyre Safety Month 2017: Check Your Tyre Pressure
October is Tyre Safety Month and this year organisers TyreSafe are focusing on the importance of checking your tyre pressures every three weeks and before any long journeys you undertake.
Why is Tyre Pressure Important?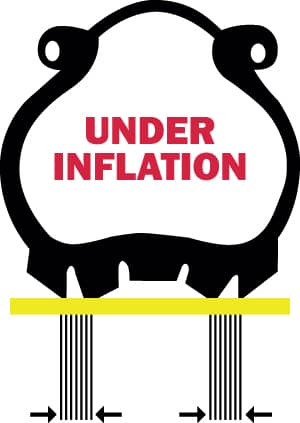 Tyre pressure affects your handling, grip and braking distance so it is vital for your tyre safety. When tyres are under inflated the part of the tyre intended to touch the surface of the road (the contact patch) becomes reduced and uneven, meaning that your tyre will not be able to grip the road as effectively. This will increase your braking distances and impact your wet weather capabilities.
In addition to drastically affecting your safety on the road, under inflated tyres can cost you more money! When tyres are under inflated and less tread is in contact with the surface of the road there is an increase of friction which in turn increases rolling resistance working on the tyre. This means that the tyre requires more momentum and more fuel to run, increasing your fuel consumption and emissions.
Under inflated tyres will also wear unevenly, due to this reduced contact patch, and so they are likely to have a shorter life span than correctly inflated tyres. They are also more susceptible to damage and wear.
The Facts!
In a study conducted by TyreSafe, it was found that as many as 57% of tyres on the road were being driven below the recommended tyre pressure for their vehicle and a huge 35% were being driven at least 8 psi below the recommendation!
As 3% more fuel is wasted when pressure is 6 psi below recommended pressures, this has led to a massive £600 million being wasted annually on fuel costs by British motorists driving on under-inflated tyres!
Furthermore, for every 10% a tyre is under inflated its wear can increase by 10%, meaning that under inflated tyres will need to be replaced much sooner than correctly inflated tyres!
Get a FREE Tyre Check at Setyres this Tyre Safety Month
Setyres are dedicated to tyre safety and we always offer FREE tyre safety checks. Contact your local branch and make an appointment for one of our tyre specialists to check your tyre pressure, tread depth and inspect the condition of your tyres.
Alternatively, for information on checking your tyre pressure and inflating your tyres, take a look at our helpful tyre pressure guide.
For more information on Tyre Safety Month visit the TyreSafe website.
Posted on: 01/10/2017