What is EU Tyre Labelling and why does it matter?
Tyre labelling regulations were introduced by the EU in November 2012, but do you know what the labels mean and how they can benefit you as a driver?
Not all drivers understand exactly what goes on under the bonnet, so why should it be assumed all drivers know what they want or need from a tyre? After all, the tyre is the only part of the car that sits between your car and a potentially very fast moving road. The EU tyre label has been designed to give valuable information to consumers in a simplistic format – ultimately helping drivers to make more informed decisions when purchasing tyres.
What does the Tyre Label tell me?
In Europe, new compulsory tyre labels have been introduced to help shed light on how tyres perform according to three categories:
Braking distance in the wet
Exterior noise
Fuel Efficiency (rolling resistance) - which in turn is an indication of fuel economy and thus harmful emissions levels.
The next step is up to you. As the consumer you have the power to use the valuable information offered to your advantage... The main purpose of the labels on tyres is to make driving safer, more economical, less polluting and less noisy. Introducing this information to drivers brings about major advances in consumer information when it comes to tyre safety.
Having to slam your brakes on at 50mph in the wet really makes you think about safety. But rather than being concerned about what happens in the event of a collision drivers should be more concerned with preventing accidents from happening in the first place – and this is what the EU tyre labelling system has been designed to promote. Gone are the days we all got confused by the array of similar looking round bits of black rubber...
Increase safety by comparing braking on wet roads
All drivers are aware that in wet conditions your braking distance is drastically increased compared to dry braking distance.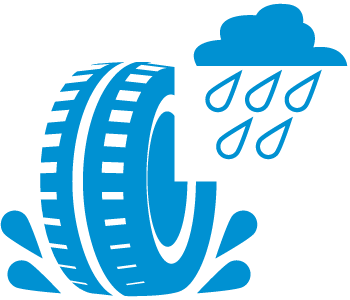 All manufacturers offer variations in tread patterns, each with their own specific sipes and tyre walls designed to prevent aquaplaning in different ways. This safety feature is one of great importance and therefore is assessed and included in the EU Tyre Label. The label will show a clear class of wet braking ability so you can choose the safest tyre based on your requirements.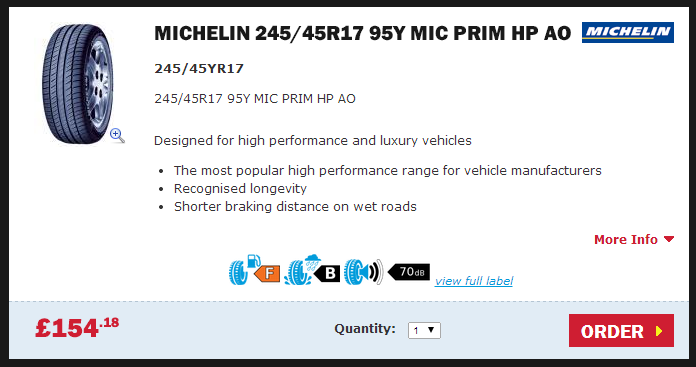 Saving money with increased fuel efficiency
We are all feeling the pinch on our pockets and trying to free up some cash wherever possible, so it's useful to know how to save on our cars maintenance and driving habits.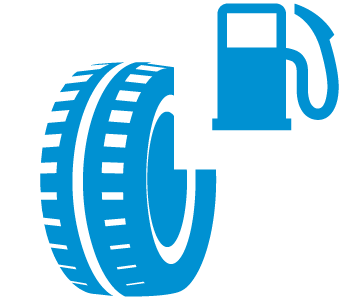 The tyres you choose can have a dramatic effect on fuel consumption so when it comes to choosing between those nice cheap budget tyres or pricey leading brand tyres – never assume the cheaper option is the best. Any tyre dealer will tell you the vast majority of drivers would think twice before paying extra for a premium tyre, but more expensive tyres could save you much more money in the long term based on the fuel efficiency rating. Considering the fuel efficiency rating on your potential tyre purchase, may well benefit your pocket.
"Save up to £110 or 80 litres of fuel over the life of the tyres. That's for a car fitted with four A-rated tyres driving at 50mph – it uses 7.5%1 less fuel than with G-rated tyres. Results can vary with type of car or climatic conditions but the performance gaps are proven." http://www.michelin.co.uk 1Performance measured in accordance with the testing methods set by Regulation CE 1222/2009. European Commission's Impact Assessment SEC (2008) 2860.
As an example when looking at the tyres below you may save around £40 buy buying the budget tyre, but it has been given a much lower fuel efficientcy rating.


Noise pollution – It does exist
As well as their contribution to fuel consumption, tyres also affect the environment with the noise that they generate. In order to reduce noise pollution from road transport, tyre manufacturers must comply with limits to regulate the amount of noise their products generate.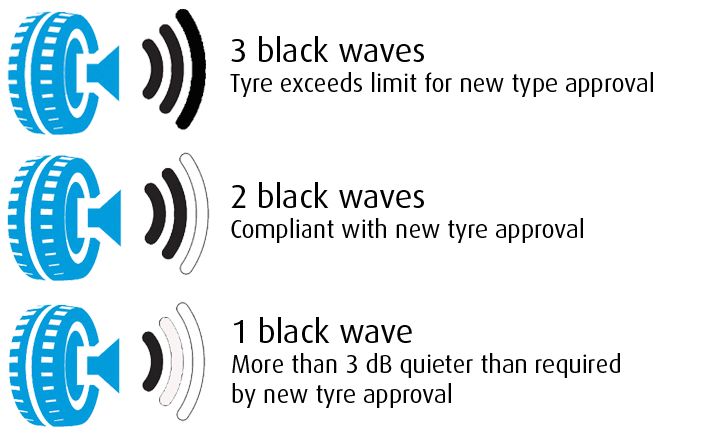 Tyre noise heard outside doesn't necessarily reflect tyre noise heard inside your vehicle and interestingly, below 30mph, most of the noise heard by a vehicle is engine noise, above that speed it is the noise that the tyres create that dominates. The diagram here shows the value of sound waves and what they mean. For tyre labelling, the tests are carried out on a vehicle travelling at 50mph, engine switched off (freewheeling).
Regardless of your priorities when purchasing tyres, the introduction of EU Tyre Labelling has had a significant impact on consumer decision. If you have any queries regarding tyre labelling find your nearest Setyres branch here and feel free to call our friendly staff who will help out with any questions you might have. Alternatively, click here to search for your new tyres online, or just browse the great selection of tyre manufacturers (complete with tyre labelling) we stock here at Setyres.
Posted on: 23/06/2014