Will your Tyres Fail your MOT?
September is one of the busiest months for MOTs, but unfortunately a large number of vehicles fail the MOT first time around. But what can fail an MOT? And are my tyres legal?
According to the DVSA, 10% of MOT fails were due to tyres ? and as one of the easiest parts of your vehicle to check and replace, this is an MOT fail that could be avoided! Take a look at our helpful tips and MOT tyre regulations to make sure that your tyres don't cause you to fail your MOT.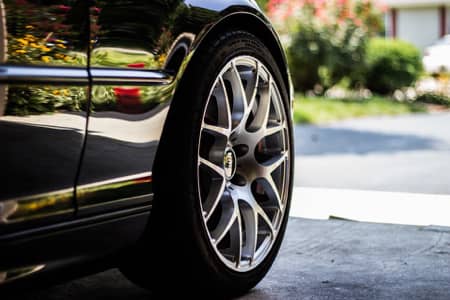 MOT TYRE FAILURE REASONS
Are you Using the Right Tyres?
Your vehicle can fail its MOT test if it is found to be using the wrong tyres. You should be using tyres that are the correct size for your vehicle, as specified by your vehicle handbook. You can easily check that your tyres are the right size by comparing the tyre size printed on the sidewall against the front and rear tyre sizes specified in the vehicle handbook.
If you have recently suffered a puncture and used a space saver or lightweight tyre, you must replace this before your MOT test. These tyres are designed to get you home or to a garage following tyre damage - they are not suitable for everyday or prolonged use and will cause your vehicle to fail its MOT.
Tyres fitted on the same axle must also share the same structure - it is not permissible to mix directional and asymmetric tyres. In addition, directional tyres are designed to rotate in a certain direction, and if they have been fitted incorrectly, an MOT fail can occur. If you are not sure whether your tyres are of the same structure and fitted correctly, visit your local Setyres branch where one of our trained tyre specialists will be able to tell you.
Tyre Tread Depth FOR MOT
So, what are the MOT tyre requirements? Tyres with tread depth lower than 1.6mm is illegal and will result in an MOT fail. In addition, illegal tread depth could result in points on your driving licence and a fine of £2,500 per tyre, so it is worth checking them regularly!
Checking tyre tread depth for your MOT can be undertaken easily at home using a 20p coin. Simply place the coin in the tread grooves in three different places on the tyre. If any part of the outer band of the coin is visible, your tyre tread is too low and your tyres need to be replaced.
Take a look at our helpful tyre tread information for further guidance or simply visit your local Setyres branch for a free tyre check.
The Condition of your Tyres
During an MOT test the general condition of your tyres will be examined and any serious cuts, bulges or lumps will most likely cause you to fail. Before your MOT test, and every three weeks, you should check your tyres for any signs of damage.
Signs of tyre damage to look out for include the following in this MOT tyre failure list:
Lumps and bulges
Cuts, punctures or tears
Visible signs of the ply and cord
This damage will fail your MOT test and could be extremely dangerous so you must contact a tyre specialist immediately if you see any of these signs.
For more information on spotting tyre damage and for advice on prolonging the life of your tyres, take a look at our helpful tyre care guide.
If you are worried that your tyres will not pass the MOT test, you should replace them beforehand. Search online to find new tyres to buy for your vehicle today or find your local branch to arrange a fitting.
For more information on passing your MOT test and common MOT failure reasons, take a look at our MOT checklist to find out what else will be inspected during the test. Alternatively, for more advice and support on MOT tyre rules, get in touch with a member of our expert team today.
Posted on: 21/09/2016